New Year's greetings in foreign languages
LEXIKA

21.12.2018
Meet the World with Lexika
Reading time:

2

min.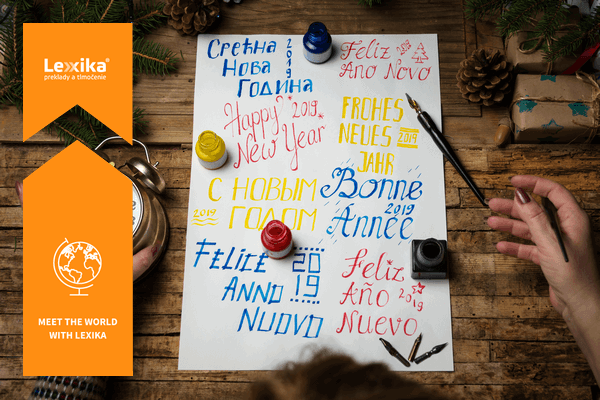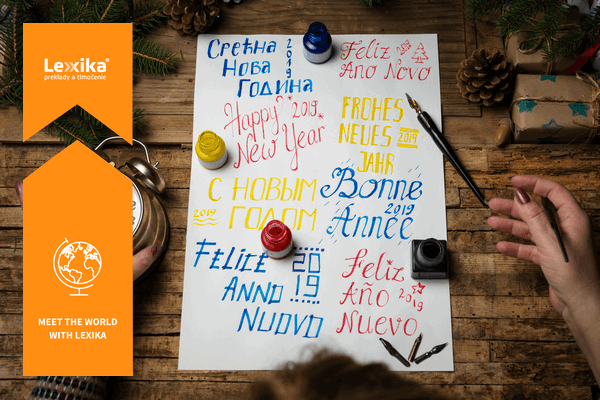 Oh, how time flies! Many of us breathe a sigh of relief when the clock strikes midnight, as we leap into the new year... Some of us reminisce about what is past. Others think expectantly about what the coming year will bring. On New Year's Eve at midnight and a few days after, people will greet one another, clinking glasses, celebrating, hugging, kissing and shaking hands.
Some places start the celebrations an hour or two earlier, some later, yet the ever-repeating New Year's greetings never go out of fashion.
Many of us have family, friends or customers abroad. Maybe you too are about to spend New Year's Eve and Day away from your homeland, and could use a few New Year's greetings in a foreign language. And what kind of a translation agency would we be if we didn't offer you a solution? That's why we are bringing you New Year's greetings in diverse languages.
The most common greetings in the most common languages
If we wanted to wish you Happy New Year in all the world's languages, it would probably take us into the next year. That's why we have prepared New Year's greetings for you in languages closest to ours, or are the most spoken in the world. So how do people say Happy New Year in other parts of the world?
Bulgarian

Пожелаваме ви щастлива и успешна Нова година!
(Pozhelavame vi shtastliva i uspeshna Nova godina!)

Chinese

新年快乐
(xīn nián kuài lè)

Danish

Vi ønsker jer alle et godt nytår!

Finnish

Hyvää uutta vuotta!

French

Tous nos meilleurs vœux de bonne et heureuse année!

Greek

Ευτυχισμένο το Νέο Έτος!
(Eutykhisméno to Néo Étos!)

Hindi

नये साल की हार्दिक शुभकामनायें
(naye sāl kī hārdik śubhkāmnayeṅ)

Dutch

Vrolijk Gelukkig Nieuwjaar!

Croatian

Sretna i blagoslovljena nova godina!

Japanese

明けましておめでとうございます
(akemashite omedetō gozaimasu)

Hungarian

Kellemes ünnepeket és boldog új évet!

German

Wir wünschen Ihnen ein glückliches neues Jahr – viel Glück, Zufriedenheit, Erfolg und Gesundheit!

Portugese

Boas festas e feliz ano novo!

Polish

Wesołych świąt i szczęśliwego Nowego Roku!

Russian

Счастливого Нового Года!
(Schastlivovo Novovo Goda!)

Slovak

Prajeme vám všetkým šťastný nový rok!

Slovenian

Vesel in srečno novo leto!

Spanish

Feliz, saludable y exitoso año nuevo!

Swedish

Gott nytt år!

Italian

Auguri di buone feste e felice anno nuovo!

Turkish

Yeni yılda mutluluk, şans ve zenginlikler seninle olsun!

Ukrainian

Щасливого нового року!
(Shchastlivoho novoho roku!)
Before we close, we can't help wishing you a Happy New Year in a few less commonly taught languages.
"Happy New Year":
Hion Hios Hes – Banen
Hauoli Makahiki Hou – Hawaiian
Mbung Mbung Ngouh Suiie – Bandang
Saal Mubarak – Persian
Na Mwaka Mweu Museo – Kamba
Sena Tajba – Maltese
Nonyaka Onempumelelo – Zulu
Dear friends! We wish you a wonderful, fun, relaxed and a happy new year!
Do you like our blog?
Share it!