Advent Traditions around the World
LEXIKA

04.12.2018
Meet the World with Lexika
Reading time:

4

min.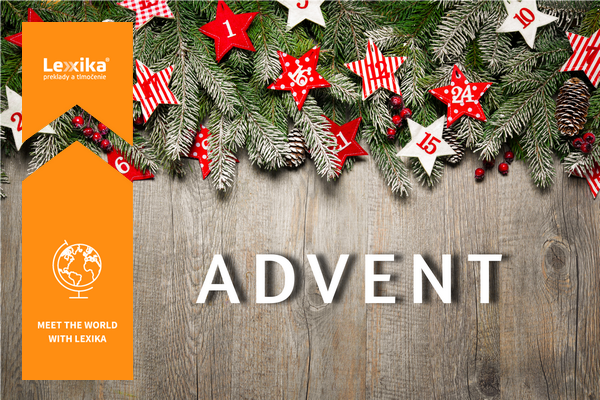 A wreath with four candles, the days before Christmas, shopping fever, house cleaning... These are probably the first things that come to one's mind when hearing the word "Advent". However, the essence of Advent is much more beautiful and goes way deeper than people imagine.
From the Latin word "adventus" , advent translates into English as "arrival". It denotes the period of the four Sundays before Christmas with two of them having special names. The first one is called Advent Sunday and the third is Gaudete Sunday. The first Sunday in Advent marks the beginning of the liturgical year for the Roman Catholic Church.
Origin of Advent
The first mention of the Advent season as a time of preparation for Christmas dates back to the beginning of the 5th century in Rome during the pontificate of Leo I the Great. The next mention of Advent is from 582 when a council held in France ordered that festive Christmas preparations should begin on the Sunday following Saint Martin's Day and should last six Sundays. Eight years later, Pope Gregory I, called Gregory the Great, shortened the period to four Sundays. Advent was given its final form in the 8th or 9th century. In the 14th century, Lenten rules were introduced for the Advent season.
Advent Wreath
The Advent wreath with four candles is a typical element of the pre-Christmas period. On each Sunday of Advent, moving clockwise, one of the candles is lit, taking us one step closer to the most delightful holiday of the year. This tradition, however, is much younger than Advent itself. The first mention of the Advent wreath dates back to 19th-century Germany.
Nowadays Advent wreaths are subject to fashion trends, and so wreaths of various colours and shapes made of a variety of materials can be found in our homes.
However, the original Advent wreath was subject to specific rules. The wreath had a rounded shape, which stood for eternity, and was made of evergreen branchlets, cones and nuts, which symbolised life. Candles and ribbons were purple – the traditional colour of Advent, representing dignity and penance, with the exception of the third candle, which used to be pink as a symbol of joy.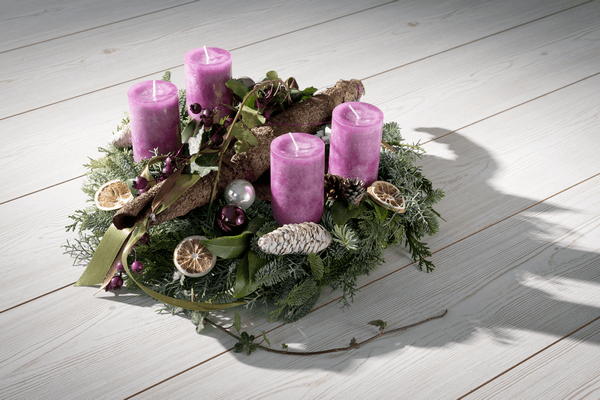 Advent Traditions Around the World
The so-called Rorate Masses served during this time carry an important symbolic meaning. They start before dawn, and the faithful attending bring candles or lamps with them to the church.
Another Advent tradition was to cut off a branchlet from a cherry tree on 4 December, Saint Barbara's Day, and place it in a vase of water. According to the tradition, the cherry tree branchlet was supposed to flower before Christmas.
We must not forget about Saint Nicholas' Day, which is also part of the Advent season. On this day, we commemorate Saint Nicholas of Myra, a Christian bishop known mainly for his generosity. In most European countries, his feast day is celebrated on 6 December. On the eve of Saint Nicholas' Day, children prepare for this holiday by polishing their boots, putting them out and waiting for presents from Saint Nicholas. Saint Nicholas in known under different names in different countries and languages. He is called Sankt Nikolaus in German, Sinterklaas in Dutch, Miklavž in Slovenian and San Nicola in Italian.
Other unique traditions include Advent concerts, but it is the Christmas markets which are probably the most popular attraction today, with their aroma of Christmas punch, mulled wine and other treats contributing to the Christmas spirit.
In European capitals, Christmas markets will be open on the following days:
Berlin 26 Nov 2018–30 Dec 2018
Bern 1 Dec 2018–24 Dec 2018
Bratislava 23 Nov 2018–22 Dec 2018
Brussels 30 Nov 2018–6 Jan 2019
Budapest 19 Nov 2018–1 Jan 2019
Copenhagen 1 Nov 2018–21 Dec 2018
Helsinki 1 Dec 2018–22 Dec 2018
Ljubljana 30 Nov 2018–2 Jan 2019
London 9 Nov 2018–27 Dec 2018
Oslo 17 Nov 2018–30 Dec 2018
Paris 22 Nov 2018–29 Dec 2018
Prague 1 Dec 2018–6 Jan 2019
Riga 30 Nov 2018–6 Jan 2019
Rome 2 Dec 2018–6 Jan 2019
Stockholm 24 Nov 2018–23 Dec 2018
Tallinn 24 Nov 2018–5 Jan 2019
Vienna 16 Nov 2018–26 Dec 2018
Vilnius 1 Dec 2018–7 Jan 2019
Warsaw 6 Dec 2018–21 Dec 2018
In European countries, preparations for Christmas are quite similar. Decorating Christmas trees and homes, baking cookies and other treats, visiting Christmas markets and gift-giving culminating on Christmas Eve or Christmas Day—all these activities are common traditions of the time before Christmas. However, in Italy for example, people exchange Christmas gifts also on 6 January, because children believe that on this day, a witch named Befana brings them presents.
In the US and Canada, stockings are hung above the fireplace to be filled with presents from Santa Claus. Often, families visit and help the poor and homeless by giving them gifts and food. In North America, Midnight Mass is celebrated on Christmas Eve, traditionally at midnight, when Christmas Eve gives way to Christmas Day. Christmas day is celebrated on 25 December with lots of presents.
People in Mexico and other Central and South American countries celebrate Advent by dressing up in costumes and participating in traditional musical processions. In these countries Christianity plays an important role, which is why everything from the preparations during the Advent season to the climax of the Christmas holidays relates to this religion's teachings. For people in South America, Advent and the Christmas season are for time spent with their families. Together, they celebrate the birth of the baby Jesus, also specifically honouring his parents Joseph and Mary.
Christians in China light their homes with beautiful paper lanterns during the Advent season. Even their Christmas trees are decorated with paper flowers, chains and lanterns. Santa Claus is called Dun Che Lao Ren in Chinese.
As for the time of Advent and Christmas in Australia, it is while children are enjoying summer holidays. Even though their traditions are similar to those of the rest of the world, they celebrate a warmer, more summery variation of Christmas, for example on the beach. Just imagine that! ?
How do you spend the Advent season? Do you observe any interesting customs and traditions? Let us know in your comments, we would like to take inspiration from you. 🙂
Do you like our blog?
Share it!