What Does It Take to Become a Good Translator?
Eva Dinušová

25.11.2022
For Translators
Reading time:

4

min.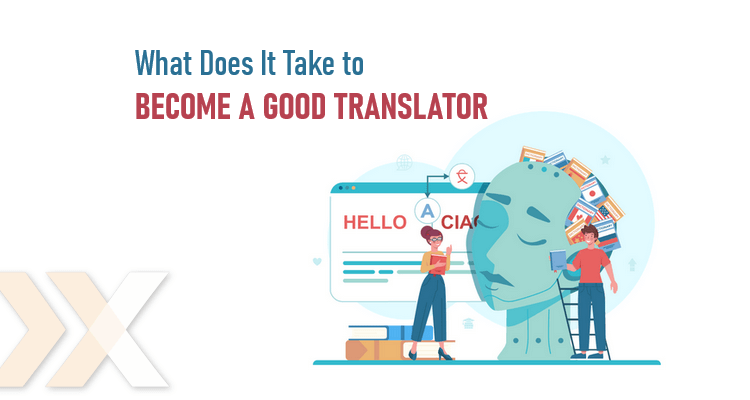 Do you enjoy learning foreign languages and analysing texts? Want to become a professional translator? If you answered "yes", then you have all your bases covered! This article will explain what you need to work your way up to the big league of translating.
There's No Tongue Like Mother Tongue
For every translator, their first language – their mother tongue – is their most valuable tool. We often focus on the second language and forget that translators create text in the target language, their mother tongue. Therefore, it's essential to have a firm grasp on your first language. Only then can you produce sound translations that are up to the industry standards stylistically, gramatically and semantically.
Foreign Languages Can't Be Foreign to You
Language proficiency is integral to any translator's CV. The "mastery" level, known in Europe as C2, is the highest possible proficiency level and corresponds with the knowledge of a native speaker. It isn't enough to speak the language and watch a movie without subtitles. The mastery level means that you can understand the subtle nuances of the language and not get confused by what might appear to be a strange sentence structure.
One of the most popular ways to reach the mastery level is to get a university degree in translating. Another option is to live abroad, and then get a post-graduate degree or sign up for a translation training course to get an internationally recognised certificate.
Today there are no limits on the foreign language that you choose. You can go for the most requested ones, such as German or Spanish, or some of the more exotic languages, which offer considerably less competition. These include Romanian, Greek or Norwegian, for example. Ideally, you should consider choosing a combination of an in-demand and a more exotic language.
Find a Specialisation
Aside from picking a language, selecting a specific field for the long run is also desirable. Currently, IT and localisation are on the rise, but a considerable demand remains for the more "conventional" fields, such as medicine, law and economics.
Admittedly, we do have Google to help us out these days. Yet, the results won't be the same top-quality as if a true specialist in the field gave it a go. This is because they understand it through-and-through, and they translate the text as a whole with regard to the context, not just the isolated sentences one after another.
As you can see, the best option is to pick specialisations within which you want to become a professional and hone your skills until you become a master with ample contacts, should you need them. You can rely on consulting professionals in the field, research different online forums or look up proper terminology in specialised dictionaries. Ideally, you should be passionate about and personally interested in the fields that you choose.
Translate the Modern Way
Knowing how to work on a computer is essential today – not an advantage. But you can learn some things that will put you a step ahead of the competition. Since translators use computers everyday, they must know how to find quick fixes and save time whenever possible. That means you should get familiar with keyboard shortcuts, know how to install and operate various softwares (dictionaries, text editors etc.) and learn how to search and filter information correctly and efficiently.
Another essential feature of modern translation is Computer Assisted Translation (CAT) tools. In the 21st-century, these belong among standard translation tools.
Machine translation is also becoming popular, and we can suspect that it will dominate the translation market in the not-so-distant future, at least partly chaning the way translators work. Professionals shouldn't resist these new technologies, but embrace them, as they can be quite beneficial if used appropriately.
A Keen Eye Gets You Further
Here's the truth: translation is a meticulous job. You must double-check the terminology, look for the right words and expressions and check facts. You must pay close attention to the details, as every number, name and title must match, and no typos are allowed. Sure, some programs can help us out, ones often incorporated into the CAT tools themselves. They let you know when there are typos, inconsistencies and small mistakes that are difficult to notice with the naked eye. When you've finished translating, you must proofread the entire text and correct any possible errors. And it'll be even easier to spot them if you allow some time between translating and proofreading.
Don't Underestimate Communication
You may think that communication skills aren't too important when translating. However, you should never underestimate them. The computer might be your "most trusted colleague", but always make sure to communicate with your clients politely and cordially. Polite communication leaves their doors open for you, even if you might not strike a deal with them right away.
When an uncomfortable situation occurs, try to deal with it. Let's say there's a technical issue that will cause you to miss the deadline. Always reach out and communicate. Radio silence is one of the worst decisions and leaves your client in an unsure position.
Practice Makes Perfect
Without practice, you'll always fall short, as theoretical knowledge can only get you so far. Your real-life experience is what counts. Think of it as having a driving licence. You can know every street sign and rule, but driving an actual car is completely different. Everyone who's ever sat behind the wheel knows that the first few miles will be somewhat uncertain. However, after some time, we drive as if "on autopilot". With practice comes mastery, and translation is no different.
Above all, remember that you must practice translation itself. Teaching the language or using it as a working language is close, but not the same.
You should also never stop learning. Otherwise, you'll fail to adapt to our quickly changing world.
Last but not least, every translator should follow the ethical principles.
Are you ready for the professional translation league try-outs, or do you still need something? If you want to bring your best game, then don't forget about a passion for languages and lots of enthusiasm. And keep your head – you'll definitely need it in stressful situations.
Are you a translator wanting to cooperate with us? Please contact us at hr@lexika.sk.
Do you like our blog?
Share it!