CV checklist for translators
Simona Pralovska

28.04.2021
For Translators
Reading time:

5

min.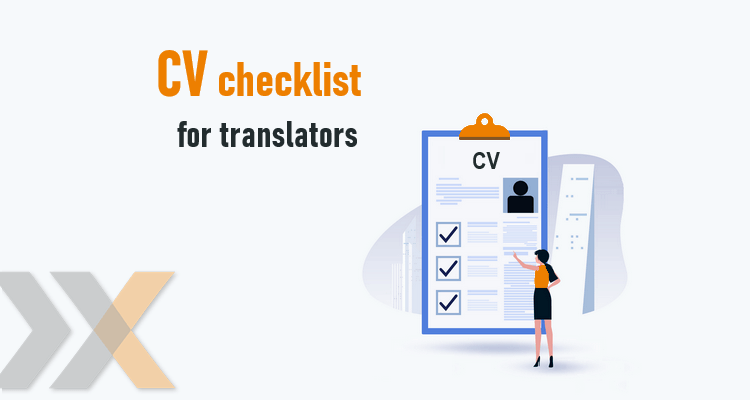 Translators' CVs have become my daily bread. I look at their visuals, read their contents, find the relevant information, and consult their authors to add any missing details.
The information found in a CV helps our business operation (and cooperation) quite a lot, regardless of whether or not we're looking for a new translator or linguist.
Without question, a translator's CV needs to look much different than that of a wannabe manager. Many are interesting and comprehensive, but occasionally one arrives with almost no relevant translation experience. Sometimes the word "translation" isn't even in the CV ?. This inevitably leads to a "back-and-forth" between me and the translator. I have to "mine" for information yet again, and in the end I often learn that the candidate is in fact appropriate for the position, despite the original CV having nothing to show for it.
What should you put in your CV?
✔️ Personal data
This is mandatory for every CV. The personal data should include:
First and last name
Gender (appropriate in an international environment)
Contact (e-mail, phone number, Skype, or other communication channels)
URL address
A link to your webpage, LinkedIn profile or another page with more information about yourself
A picture isn't required, but it can be a pleasant addition. This is especially true since the work is remote and your picture can humanize you to the employer. If you do decide to add one, make sure it is of a good quality and appropriate for a work environment.
✔️ Work (read: TRANSLATION) experience = the spine of a CV
What is most important for the position you are applying for? Even at a first glance, your translation experience should be the first thing anyone notices. But before we jump to conclusions, the following piece of information is definitely not enough:
"2013–2020: Translator"
Consider how meaningful such a label is. It says nothing about the form of your work, the types of text you have translated or the fields you have worked in. In this field, it matters whether you work as a company's internal translator or translation is just your pastime and something to do during maternity leave.
This section requires your attention more than any other.
Only list other experience if it is relevant, for example proving your expertise in a given field. Current and recent positions are also the most relevant ones. They matter far more than those from years ago.
✔️ Specializations, services, projects
The exact structure is up to you. List everything under your work experience, or divide the information into sections.
Here's a recommendation: the reader will comprehend it better if your specializations and services are listed individually. This saves time by not having to look for it all over your CV.
Also, a projects breakdown offers a clearer understanding of your experience. Here, list the areas of translation, services, clients (list their operation areas, if you can't be specific) and approximate lengths. 
✔️ Working languages
Simply listing your languages is not enough—they are your main asset after all. Ideally, you should mention:
Working languages—your active translation languages
Language combinations/directions of translation
Other languages—If you, for example, only translate French texts, but can also communicate in German, then we may offer you a translation with two stray German words, or one where the commentary needs to be written in German.
The level of your language knowledge and how it has been reached
✔️ Technical skills
Highlight the CAT Tools you can work with. Also, be sure to mention having your own license.
Furthermore, list other software you are familiar with, and mention if you can work in HTML or other programming languages (especially if you translate IT texts).
And don't forget to mention your operating system, since not all software is universally compatible.
Proficiency with MS Office or the internet is taken for granted nowadays. Be sure to list it in your CV, but there's no need to make it prominent.
✔️ Education
List your education levels chronologically, starting with the most recent knowledge acquired. Above all, focus on your university education and additional courses. You may also mention secondary education, with vocational schools being especially interesting. However, feel free to leave out your primary school.
✔️ Additional information
Have you got any experience in machine translation, transcreation or voice over? Be sure to add it. And remember to mention your organisation memberships. Then, feel free to add a list of publications, links to your previous translation projects or references.
The interests section may seem useless, but even seemingly boring information about playing an instrument, horse riding or cycling has helped us decide on our translators. It allows us to offer a refreshing change to a translator overflowed with technical texts, by letting them translate something they're passionate about.
✔️ Spell check
We seem to repeat this unendingly, but it remains an essential in translation: you shouldn't even touch the keyboard without a spell check. Run it when you are translating, writing an e-mail or writing your CV. After all, your text output represents you more than anything else.
✔️ Updating your CV
Updating your CV might seem unnecessary. It was sent to the agency when you started, you've been there for some time and you're not going to need a new one anytime soon.
However, your career keeps evolving, either by acquiring new clients (who will also definitely appreciate an up-to-date CV), translating various new text types or even changing your focus or service portfolio.
Maintaining the most current information about your most common area of work, types of text and software experience is priceless to us when assigning new projects.
Some final tips

Make a comprehensive CV, wherein all the important information is visible at first glance.

Experience is important, but you don't need to expand on every project you've been a part of.

Your CV should be in English (even if it is not your working language), your mother tongue and your working language.

Proper formatting is a must.
What does your CV look like? When is the last time you looked at it? Have you got any more vital advice for creating a translator's CV? Tell us and your colleagues in the comments.
Do you like our blog?
Share it!