Finding the Right Translator for Legal Documents
Eva Dinušová

27.04.2022
Other
Reading time:

3

min.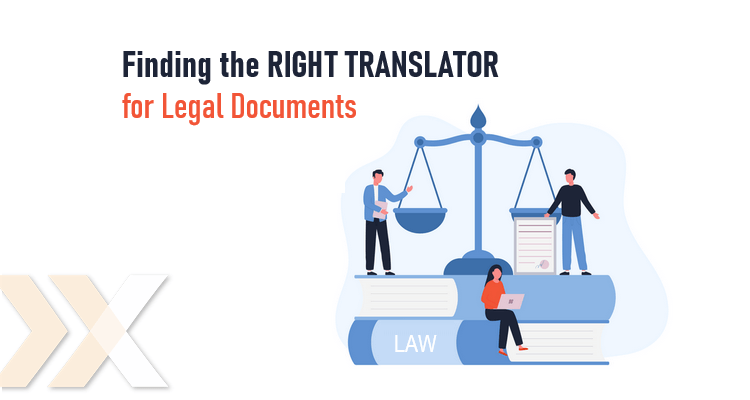 Reading time
3
minutes
Should you hire someone with a translation degree and a minor in law, or a lawyer who has passed a foreign-language state exam? Both choices are justifiable. But above all you should look at the actual experience rather than degrees and certifications. As they say, everything looks good on paper.
?
So how do you choose the best and most reliable professionals? We have years of experience selecting the very best translators. In the following, I have provided you with some basic rules to follow when choosing a translator for your legal documents.
Note: You can also use these tips for other fields of expertise.
Mission: Find a Law Savvy Translator
When looking for a suitable translator, you can find potential candidates by placing an ad or searching through different publicly accessible portals.
To find the right person, you must lay down some basic linguistic and professional criteria.
Take a moment to consider these questions before deciding:
What kind of contract do you want to offer the translator? Do you want to employ them, hire them as an independent contractor, or offer them a work performance contract?
Do you want them to have previous experience with translation and some legal background?
Will they be mentored, or work independently from the beginning?
Who will give them regular feedback on their translations, and in what way?
Do you have an in-house glossary you want them to use?
What technical equipment does the job require? Will you supply it, or should the translator have their own?
Will they use a CAT tool, or simply work in MS Word?
Once you have answered all of these questions, you can start with your initial selection. Make sure that the candidate meets your requirements: go through their résumé, cover letter, and other available information. And don't forget to note how they communicate, how fast they reply, and how committed they are.
Put Your Candidates to the Test
If the candidate meets the basic requirements, check how they do in practice. The most common method for reviewing the translator's linguistic and professional skills is a test translation.
However, do not underestimate the choice of a reviewer, the person who evaluates the translation. Translation agencies should utilize their own experienced and verified reviewers who can differentiate between errors and mistakes or random ungrammatical formations, thereby objectively assessing the translation.
When reviewing a translation, focus on the terminology chosen by the translator, and make sure that the whole text is complete, accurate with no typos, and fluent. Naturally, these are just basic rules to which you can add your own.
Note that hiring a new translator requires additional effort. Do you have someone to show them the ropes and offer guidance in the early stages?

Hint: We recommend letting an expert check important documents, such as contracts, that will be used further on.

Agree on the Formalities Your Cooperation
Agree on the form of cooperation. Decide if you would rather employ someone or hire a freelancer. Both have their advantages, and you and your company must decide which benefits you more. Furthermore, you must decide if you want to hire them as an independent contractor or offer them a work performance contract.
Finally, you must settle the issue of payment, which has numerous approaches. You can pay the translator based on the amount of translated text (for example, the number of standard pages), an hourly rate, or a fixed rate independent of the amount of work performed.
Good Translators Do Not Grow on Trees
Choosing a translator is a complex process with no guarantee that you'll find someone suitable in the end. Succeeding on the first attempt is rare, and it depends on the strictness of your criteria and how much time and money you have for the project. If you require the highest quality translation, then finding the ideal candidate might be a gruelling task.
Entrusting your legal documents to a translation agency can save you a lot of time, money, and stress. Professional translation agencies work with verified translators who have passed a rigorous selection process. They have years of experience choosing translators and know precisely what to focus on. In addition, they cooperate with seasoned reviewers who specialize in different areas and check more criteria than was mentioned in this article.
Moreover, a translation agency handles the entire translation process, makes sure that translators use your glossaries, and, in the end, you receive the finished translation. You can simply sit back and not worry about a thing.
Are you looking for a legal translator? Contact us, and we will be happy to help you.
Do you like our blog?
Share it!