Computer-assisted translation (CAT)
We use CAT tools that allow translators to achieve better quality, higher efficiency, and faster delivery, and that reduce your costs.
Translation is still made by a human translator but with the assistance of software that makes the translator's work more efficient.
Would you like to know more about benefits for your company?
Email us: info@lexika-translations.com
Call: +421 2 5010 6700
Case study
A pump manufacturer has decided to start selling its three best-selling products on the German market.
The instruction booklets and marketing documents to be translated for each model slightly differ, but the substance of the text is similar.
Before starting the translation, the texts are analysed to determine
- the volume of text to be translated,
- the exact portion of similar text,
- the final price for the entire translation.
The customer gets
- a high-quality translation,
- a graphic layout corresponding to the original,
- a better price,
- a shorter delivery time.
With CAT tools, we translate texts faster and with more terminological consistency. It is also cheaper when the texts are similar.
If the customer changes their documentation in the future, we will use the translation memory to update the translation and maintain its consistency. The customer will not have to pay twice for the translation of the same text.
Customer's benefits
Professional software tools to assist in translation help us to achieve a high quality of translation, a consistency of terminology, faster delivery and a lowering of your costs.
How it works
Each translated sentence is stored in a special database known as translation memory. When an identical or a very similar sentence needs to be translated again, the software suggests the earlier translation.
What you need
CAT tools can be employed whenever the texts to be translated meet these simple conditions:
The original is in an electronic format.
The translation is charged by the number of words.
Translation support
CAT tools are the principal technology in the translation of texts. They are designed to create and use translation memories.
memoQ

Memsource

Trados Studio

SDLX, Wordfast

HMI
Terminology tools
Terminology management and control tools ensure the use of the correct terminology as defined by the client.
We use:
Termbase

Q Term

MultiTerm

crossTank
Quality check
Specialised tools are designed to check translation quality, particularly in terms of consistency of using the correct terminology, formatting, and so on.
Xbench

Verifika

QA Checker

QA Distiller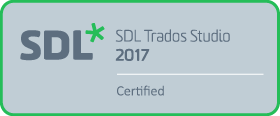 Are you interested in translations using CAT tools?
I want more information on translations using CAT tools