6 reasons why you should create a glossary
Lukáš Slovák

19.05.2022
For Translators
Reading time:

4

min.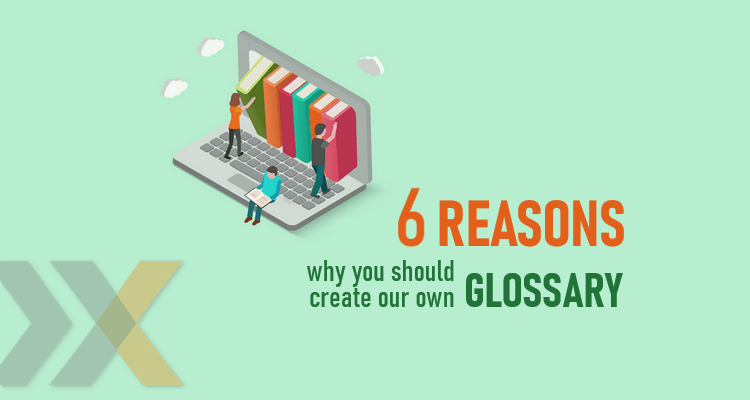 The advantages of using glossaries are great, though often underrated. If you're a translator and still don't have your own glossary, you might want to take note of this.
Term bases – term dictionaries or glossaries – simplify your work, increase your effectiveness and productivity, and therefore also increase your translating's overall quality. We recommend using them in almost every translation project. Let's look at six reasons why you shouldn't put this off any longer, and create your own glossary as soon as possible.
1. A glossary simplifies your work and saves you time
An elaborated glossary may significantly increase the your work effectiveness, primarily when you work on translations of documents from technical, law, or medical fields or texts requiring exact terminology. As the saying goes, time is money. Thanks to your glossary, you won't have to spend your time looking up the same term again and again.
2. A glossary improves translation quality
If there's a term from the glossary in the text, the CAT tool glossary will offer a suitable and exact equivalent. The use of glossaries prevents translating one term in two different ways. Your translations will be more consistent, which you'll appreciate especially when translating long documents or in regular updates of texts.
The glossaries represent an effective tool to help you succeed in the market thanks to the correct and exact terminology.
3. It's easy to create one
You don't have to worry over building a glossary. Whether you want to create a simple bilingual glossary in Excel, or work with CAT tools and use the glossary in those, all it takes is your time and your will.
In case of Excel or similar programmes (OpenOffice, Google Docs and others), we recommend a three-column table for a bilingual glossary, which will contain: source language and target language columns, and column for notes. Notes may consist of explanations or links for related terms, information about the context in which the term is used, date of update, etc. A list created in this way can be arranged in alphabetical order for easier usage, or you can even create various categories for particular terms (e.g. according to the specialities of criminal law, civil law, etc.).
With CAT tools, work with a glossary is even easier. The terminology may be quickly added using keyboard shortcuts, e.g. in SDL Trados Studio or memoQ. All you need to do is add the created glossary to your project. A CAT tool will automatically offer a translation of a given term in a particular language, and also flag the sentences where the appropriate translation was not used.
Another advantage of a glossary created in a CAT tool is the possibility to add and manage multiple languages within one glossary. You can also add forbidden terms, which are unacceptable for your client's translations because of inaccuracy or individual preference. It is even possible to add terms which are never to be translated (e.g. names of products).
4. A glossary is priceless
Glossaries may have great value – let's quantify that. "Research" of the correct terminology for a glossary could take some time, but this time investment is sure to pay off in the future.
The theoretical value of the glossary could be calculated like this: If your hourly rate is €12, then your glossary has a theoretical value of almost €100. Let's say you create a glossary with 100 terms, and looking up and verifying one term takes 5 minutes. Imagine the value of highly elaborated glossaries which may consist of 1,000 or even 20,000 or more terms. This calculation may seem improbable, since most clients are not willing to pay for glossary creation. But the value of the glossary doesn't change over time, and in some situations in translation practice, its value is worth its weight in gold.
5. Term base for sale: great condition, heavily used
Glossaries can be shared or exchanged but also sold, which brings us back to the previous point. Apart from being great tools for translators, glossaries may also be useful for clients and language service providers who order translations.
There are in fact clients willing to pay for creation and maintenance of a glossary. They may create a glossary to finally make their corporate terminology consistent. The previous translations may come in handy and later on save them both time and money – especially if they produce several hundred pages of important documentation daily. Another plus is that any following translations won't have to be changed because of incorrect terminology.
6. A glossary as a tool for professional growth
Over time, glossaries must be updated: new words have to be added, and old, unnecessary or outdated terms have to be deleted. But there is a positive side to this – deepening your knowledge about particular issues, learning new things and improving your vocabulary. The newly acquired knowledge becomes a new entry in the glossary. You can also choose to commit to adding a few new terms to your glossary every day. Your glossary or glossaries will soon become an irreplaceable tool, not only for you but also for your clients.
If we've convinced you about the advantages of a glossary and you still don't have your own, follow our blog or Facebook page. Soon we'll reveal how to create a glossary yourself.
Do you use your own glossary? Do you consider it useful? Share your experience in the comments.
---
Sources:
bentranslates.wordpress.com
www.integrolanguages.com
www.sdltrados.com
www.oneskyapp.com
www.mtmlinguasoft.com
Do you like our blog?
Share it!