Online security: Why do regular updates matter?
Simona Pralovska

20.08.2021
For Customers
Reading time:

2

min.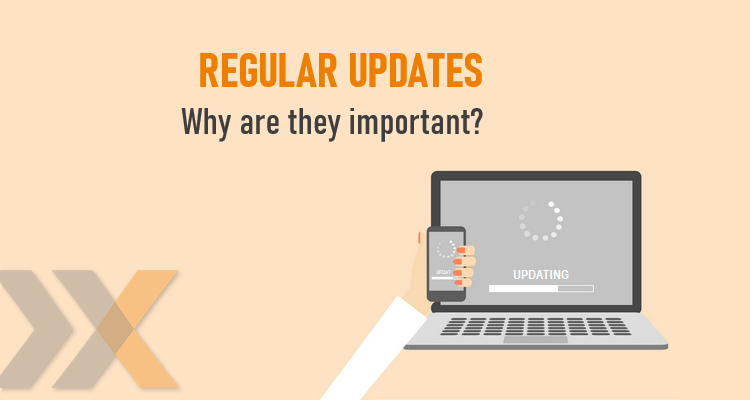 Reading time
2
minutes
You're immersed in your work when a window pops up saying that your operating system needs an update. Your work deadline is relentless though, plus you've just gotten into the groove, so you simply close the window. You'll get back to the updates when there's more time.
Sound familiar? And, more importantly—are you going to get back to those updates?
When it comes to data security, updating your operating system, software, and apps is vital. But why?
Why do updates matter?
For the most part, updates offer new functions, better performance, a more pleasant look, and simpler controls.
Moreover, there's one more crucial role that the updates provide. They fix errors in the operating systems, software, and apps that are vulnerable to abuse by hackers.
Countless cyberattacks are made possible thanks to the "loopholes" in software, which allow hackers to "smuggle" malware into your PC or other devices.
After releasing a new update, the developers always publish notes explaining what the update is all about. Hackers may be on the prowl for exactly that kind of information. If they find out that the update addresses a security issue, then they may try to take advantage of the situation and attack all of the devices that haven't been updated.
Equifax, an American credit reporting agency, faced a massive data leak in 2017. One reason was a pending update, even though the software developers pointed out the flaw and released an update to fix it two months before the incident. Equifax ended up suffering from a bad reputation and received a steep fine on top of it all.
Regular updates and GDPR
The risk doesn't lie just in the data stored in the app itself. Hackers can infiltrate other aspects of your PC or smartphone and subsequently abuse or destroy even more data.
When it comes to General Data Protection Regulation (GDPR), omitting a software update may be deemed negligence and subsequently sanctioned.
Never forget another update
Today, PCs and smartphones allow you to set up automatic updates. However, it is still recommended to check for new updates on occasion.
More often than not, updates simply run in the background and don't disturb you while you're working.
Should your PC call for an operating system update at an inappropriate time, make sure to set up a reminder. And, if you can interrupt your work for a moment, it is always better to be sure you've updated your system and sacrifice those few minutes. Take a short pause, and let a hot cup of tea or coffee brighten your day while you wait. ?
One final tip:
When downloading unknown software, check the reviews beforehand and consider whether installing it will be safe altogether.
Do you like our blog?
Share it!