How to get an express translation done easily
Lukáš Slovák

05.09.2019
For Customers
Reading time:

4

min.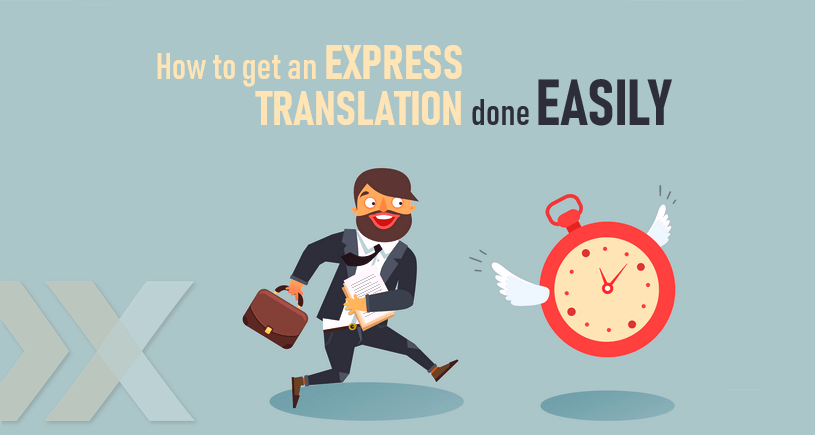 You might have found yourself in a situation where you need a translation to be done urgently, or even almost "on the spot". But did you manage to get that done without difficulties? What was your experience with your translation company?
Today we're going to talk about what you need to prepare for so we as a translation company can meet your demands for an express translation.
Thorough communication is essential
The whole process starts with your request – the more relevant details you provide, the more effective the cooperation will be, and the faster we can deliver the translation to you. First, it's important to state what you need:
Do you need a certified translation or a specialized translation?
Do you need the whole text translated or just some part of it?
What language(s) do you need to translate the text from/to?
What is the deadline for the translation delivery (day and hour)?
What will be the use of translation (private or intra-corporate purposes, e-shop or blog content, submission to a government bureau authority or a court)?
In what format do you need the translation (a PDF file in print quality, a Word file, etc.)?
Do you have any special requirements concerning for example graphic design or adding translated subtitles to a video?
When processing your demand, we take into consideration all this information. So it's best to let us know everything when you first contact us. We can take care of additional requests, such as gradual delivery (you want three documents translated but the first one is more urgent than the rest), but the sooner you tell us about them, the more time we can save.
Sometimes, a few unclear details can slow the process down. That's why we appreciate prompt and quick answers to our questions, which will help us give you a fast and high-quality translation. If you contact us by email, we recommend you leave us your phone number, so we can contact you quickly if necessary.
The following model situation is an example of what needs to be worked out in process.
A law firm needed a contract translated. The document was drafted by several lawyers, each of whom commented on the contract and amended it. So the Word document contains tracked changes, in which case we would ask you which is the final version of the document, and whether you will need to translate any of the comments. If the law firm had provided us this information when they first contacted us with their needs, or if they had sent us the final version of the text, they would have saved our time as well as their client's. Which brings us to our next point: providing reference materials.
Quality reference materials save time as well as money
The quality of the translation is often limited by the quality of the original text. In a previous article, we explained how to properly prepare a text for translation.
Let's briefly refresh our memory: when preparing your text, be careful to use suitable style and correct terminology. Focus on the "technical" attributes of the text or file to be translated. If your text is only in a PDF format, it is better to send us the original file without trying to convert it using character recognition software or retyping it. Similarly, if your text is in an editable format (such as an MS Word file), do not export it to a PDF – this will save expenses for potential formatting, especially if the document has a complicated structure and contains tables, a table of contents, pictures etc.
Among the useful things that help us and our translators provide you with quick and high-quality translation are reference materials. This might be your company's terminological database or glossary, a previous translation, or a manual for software you need to localise.
What else should you get ready for?
Translators are only human, and their working capacity has limits. The average daily output of a translator is about 2,000 to 2,500 words. However, if you really need an express translation and the text is long, we will manage the situation by dividing it among several translators. We recommend this only in case of emergency, since it can influence the overall quality of the translation. When there are two or three translators working on the same text, naturally each part will be a little different, because no two translators have exactly the same style. You may notice differences within the longer translation in style, expressions, overall impression and final effect. So we'd like to emphasise that this solution might not be ideal for some types of texts – you might find such a translation odd, and the inconsistent terminology may cause problems.
Do you really need an express translation?
Due to time limitations, express translations will be more costly than standard-delivery translations. The extra charge depends on the source and target language, type of document, demanded level of translation services, and of course on the deadline. When dealing with an express demand, the translator has to put all other work aside or translate at night or during a weekend/holiday. This will be reflected in the price as well.
Finally, our advice is to leave enough time for preparation of translation to avoid the last-minute hassle and get the highest-quality service possible.
We will gladly prepare a custom price offering for you, whether you need a translation today, tomorrow or next week. 
Do you like our blog?
Share it!