Customer benefits of using an ISO 17100-certified translation company
Simona Pralovska

17.03.2021
About Lexika
Reading time:

2

min.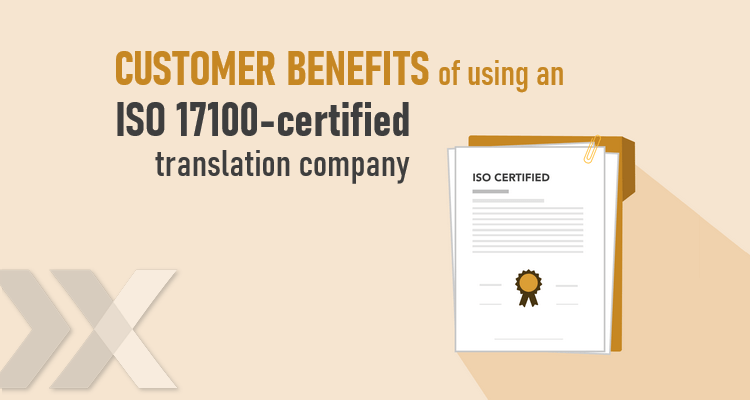 LEXIKA translation company – a double-certified company in translation services and quality management.
In a March 2021 re-certification audit, we confirmed our quality standards with the ISO 17100 and ISO 9001 certifications.
What do these standards mean? What requirements must a translation meet? Why should a customer care whether a company is certified?
Stricter requirements encourage better services
The requirements aim to ensure that the customer will receive what they paid for – a high quality translation.
Among other things, a certified translation company must:
satisfy high demands on their translator, linguist and project manager qualifications;

utilize up-to-date technical equipment, including CAT tools and translation management systems;

facilitate complex translation processes including:

order analysis,

sending a transparent proposal,

selecting a suitable translator,

conducting quality assurance and other checks

and analysing customer feedback

and ensure and maintain information confidentiality.
Why choose ISO 17100-certified translations?
We recommend translations compliant with ISO 17100, especially if you need translations with strict requirements for accuracy and appropriate terminology, or translations for self-presentation.
Above all else, ISO 17100-compliant translations:
are completed by qualified translators and linguists who have the necessary experience and education;

employ the four-eyes principle—meaning that the translated text is always revised by a second, independent translator;

follow the terminology of the field in question, or the one utilized by the client;

make good use of modern software management tools;

ensure information security and confidentiality

and can be revisited at any time via careful archiving.
Our certifications are a mark of prestige
Michal Kmet, the Managing Director of Lexika, says "We pride ourselves on obtaining these certifications. This does not mean that we can now relax and simply admire the framed certificate on our wall for the next three years. Quite the contrary. We actively search for new challenges and opportunities to grow and develop. And who knows, in the future perhaps we might add on even more certifications. Our goal is to engage in honest and stable collaborations, ensuring our customers and vendors alike can always rely on us to be ready when they need us."
Do you like our blog?
Share it!