Video conferences: we'll teach you how to do them!
Simona Pralovska

26.03.2021
For Customers
Reading time:

4

min.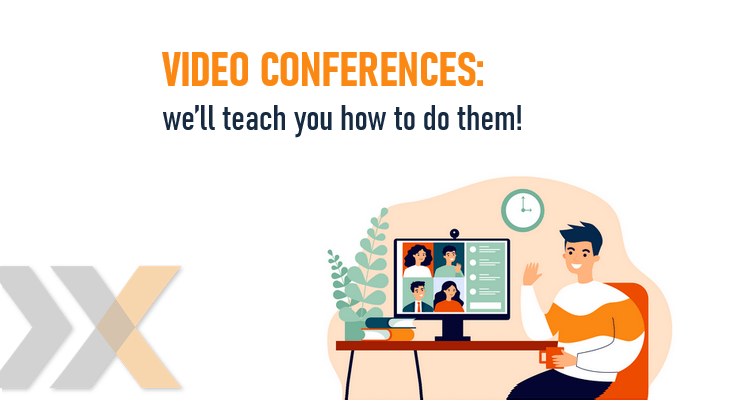 Video calls have now become common practice in company communications.
But how can you ensure they don't dissolve into a battle with bad audio, low-quality video and participants talking over one another?
If your calls resemble the one in the video below, it is high time for you to try out our tips. ?
Getting ready—the required technical equipment and an appropriate environment
Before the call begins, check that everything works and is set up correctly—the app, camera, microphone, headphones, or the environment you are in. Remember to do this well in advance, so that you can fix any shortcomings in time and avoid being late.
Ensure your internet connection is stable. Connect your computer to the internet via an Ethernet cable if possible, or at least keep it close to the Wi-Fi router. Avoiding "lag", unwanted disconnections and pixelated images will make your communication much more effective and professional.
Be careful to put the camera in the right location, so that your partners won't be staring at your forehead or into your nostrils. It shouldn't be positioned too low or too high, unconventional angles should be avoided and most of the upper half of your body should be clearly visible.
Select an appropriate background with respect to the nature of your video meeting. If it's a business call with a client, the background should be more professional (i.e., a bookshelf or even a plain, empty wall). If the call is more casual, say with your co-workers, and your options at home are limited, then your colleagues will understand if you are sitting at your kitchen table. Whatever the case, your surroundings must be clean and tidy. Before the video call, check what the other party would see and remove anything inappropriate for the call.
Set up proper lighting in the room—you shouldn't be sitting in backlight or too much darkness. Natural side light is ideal.
Your attire is important, too. Your favourite stretched out T-shirt and comfy sweatpants might be tempting when working from home. However, for video calls, we advise wearing something more formal, and in neutral colours. Black or white could cause the camera to adjust the video's brightness. Avoid complicated patterns as well, such as squares, lines or the "hound's-tooth". And remember to wear an appropriate bottom-half of your outfit. ?
Preparing for a video call—the contents and participants
To get the most out of a video conference, you should first develop a plan. Set not only the start time, but also the end time of your meeting. This way, every participant can plan their work activities and you'll avoid extending meeting too much. You can always go a little longer if important details need to be addressed. Alternatively, keep only the concerned parties on the call.
Include a brief agenda in the invitation, so that the participants can prepare.
Don't invite too many attendees. Contact only those concerned with a given matter. You'll gain more relevant information and you'll avoid overloading the internet connection.
For a better flow, appoint a reliable person to be in charge of the meeting. This prevents topic digressions and minimises situations where participants talk over each other or fall into silence.
Work video call etiquette
During a video call, it's crucial to behave as you would during personal meetings. This means:
– looking into the camera (= at the participants) when you're talking and
– focusing your attention solely on the call, turning off/minimising your e-mail, Skype, audible phone notifications and any other distracting elements.
Doing something else while talking to a person is highly inappropriate. But typing on your keyboard, in conjunction with your microphone sensitivity, sounds like a woodpecker building its home in your ear.
And, speaking of disruptive sounds—we usually make video calls from the comfort of our homes. But unwanted sounds sometimes cannot be avoided, whether it's a barking dog, giggling kids or a neighbour that's just decided to overhaul their home. Follow the golden rule of video conferences: turn off your microphone when you're not talking.
Moreover, watch out for short utterances such as "yeah", "OK" and "got it" being used as signals to the other party that you're listening. These polite utterances can quickly become a distraction due to frequent lagging during video calls. Instead, easily replace them with a slight nod or appropriate facial expressions.
Also, agree on a signal—raising one's hand for instance—that lets others know you would like to talk (remember to turn on the microphone again).
How can you get even more out of your video conferences?
Technology should adapt to people and their needs—not the other way around. That's why video call apps are packed with many useful functions.

To share information effectively, you can send files, share screen, make notes or use the app's chat window.

Another practical function is recording video calls. This lets you review them freely or send them to whoever couldn't attend the meeting.

If you hold meetings regularly, simply add a link to the video meeting to the calendar. Participants will receive a notification before the call, then they just click on a link and the meeting can begin. Never again will you have to keep setting up new calls and inviting everyone all over again.

Choose exactly how you view the participants. You can view only the person speaking at the moment, or it could be more practical to view everyone simultaneously—this way, the conversation can flow more naturally, as if you were in the same room together.

Connect to the call from various devices and locations.
Are video calls at your workplace common practice, too? What are some of the funny moments you've experienced? Let us know in the comments.
Do you like our blog?
Share it!