3 most popular CAT tools compared
Stanislava Dengová

04.02.2020
For Translators
Reading time:

2

min.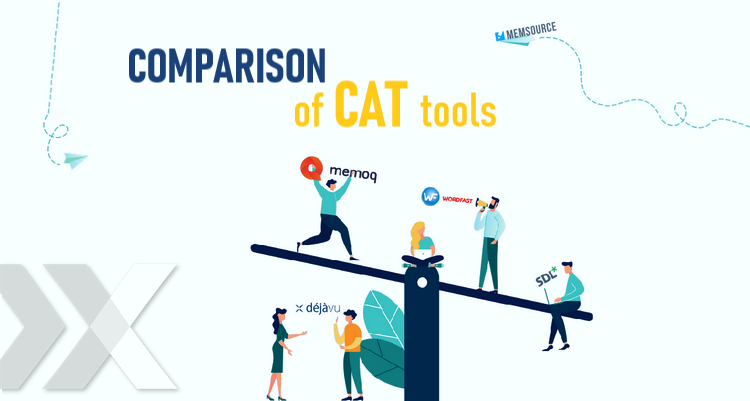 In the last few years the number of translation software tools has grown rapidly. A great number of them are currently on the market, giving translators the dilemma of choosing the right one. To get an overview of so many CAT tools requires a lot of time.
What's more, there is no definite answer to the question "Which CAT tool is the best?". Everyone has a different idea of what's convenient in CAT software, and that's why you should consider several factors before actually choosing a CAT tool.
To help you with the decision at least a little, we've looked at the big players in the translation software market, and scrutinized the 3 we use most frequently at Lexika.
SDL Trados Studio
SDL Trados Studio is one of the best-known tools, on the market for more than 25 years. Some of you might remember an older version from 2007, which consisted of separate applications for the translation memory and for translation. But this version cannot be compared to present-day software. Studio now offers a comprehensive translation solution that supports various formats of source texts. It's used by translation companies and translators all over the world.
memoQ
For us at Lexika, the preferred solution is memoQ, Hungarian software developed in 2004. It originated as a faster way of translating books in a publishing house, and has gradually worked its way up among the best-known CAT tools. It has features similar to Studio's.
Déjà Vu
Another successful solution for project management is Déjà Vu, which has existed since 1993. Apart from other features, it's highly adaptable to the user's needs and can work with different formats, including Studio or memoQ files.
You appreciate quality and history, but you'd make do with a less comprehensive tool? You can also consider one of these:
Wordfast
Wordfast is still popular among translators. Originally it was an extension of MS Word, but it later developed into an independent translation programme. In comparison with the above-mentioned CAT tools, Wordfast is simpler but if you don't work on complex projects, you might find it convenient. It's very popular for example on the Indian translation market.
CafeTran Espresso
CafeTran Espresso software was created by a developer who also works as a translator. It's a suitable solution for freelance translators and can also be used commercially. The advantage is that it can be used on various platforms (Windows, Mac, Linux).
Memsource
Memsource is a tool created in 2010 in the Czech Republic. Because it's an online tool, it's suitable for all those who travel often but it can also handle more complex projects. Its user interface is quite simple and offers a pleasant user experience.
Comparison of the best-known CAT tools
We've looked into memoQ, SDL Trados Studio and Memsource in some detail.
The comparison is also available to you for download in a PDF: Comparison of CAT tools_Lexika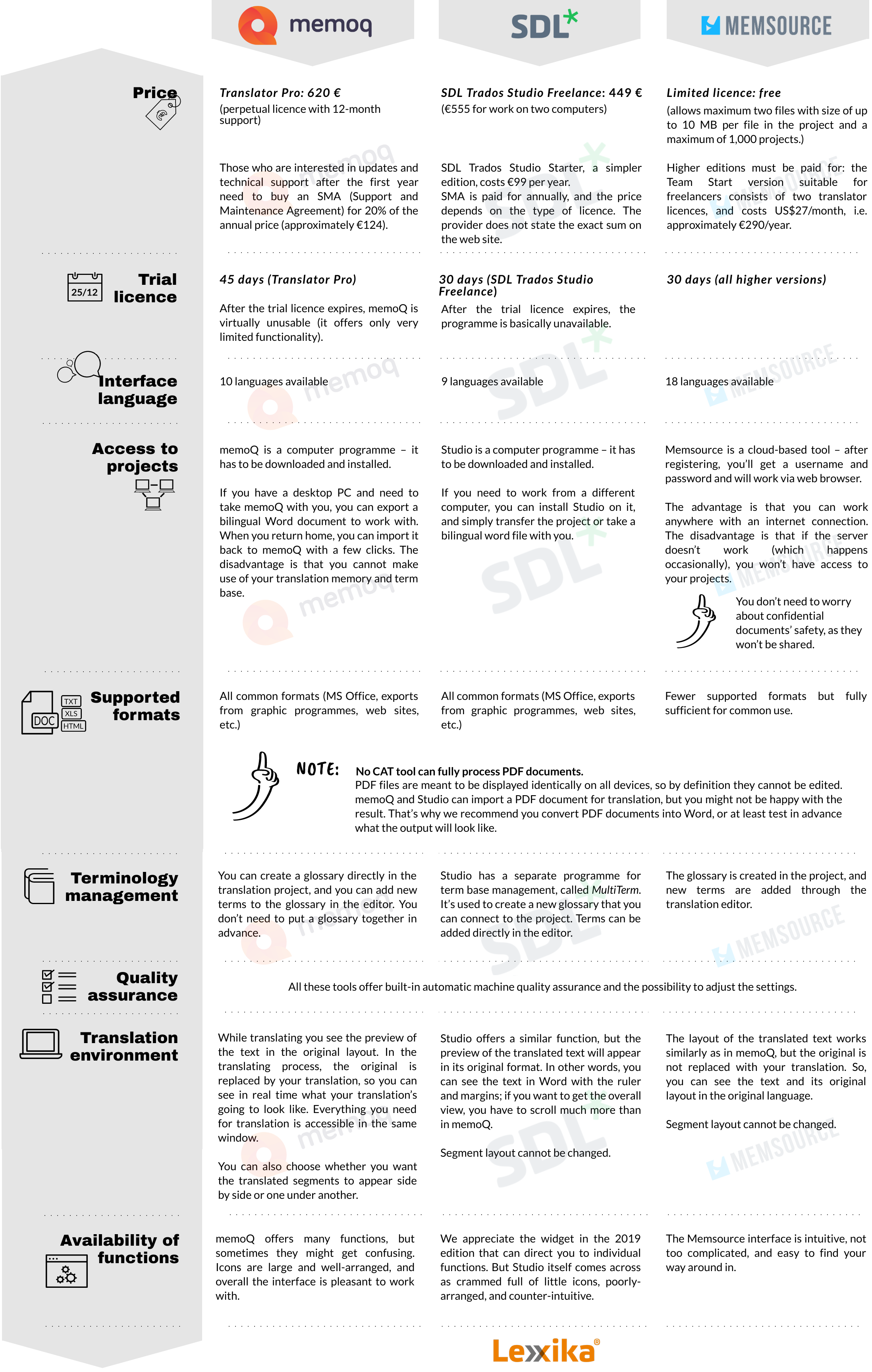 The comparison draws from experience of the author of the article, as she's had the opportunity to work with all three programmes.
As the saying goes: To each their own. Software that works for your colleagues might not work for you. Before deciding to invest in translation software, we strongly recommend a free trial licence.
When using any tool that has been on the market for several years, you can rely on the help of the translation community in case you have any difficulties. On the internet there are also many forums, webinars and other video manuals where you can find help.
Do you like our blog?
Share it!