Zero-waste office – we're in!
Simona Pralovska

18.11.2019
About Lexika
Reading time:

2

min.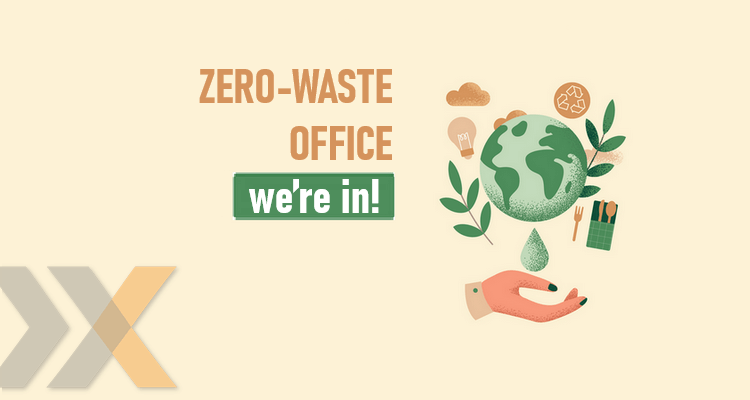 Reading time
2
minutes
"We're in!" shouted my colleague Eva enthusiastically from the opposite desk. "I'll tell you in a minute," said she and left our office…
After the longest 3 minutes, Eva came back and told me why she was so excited. "We've been selected for the zero-waste office project! Are you in too?" "Sure!" I didn't hesitate for a moment. And so it began. Well, we still needed our director's approval, but since he's always supportive when it comes to similar interesting projects, he gave us the green light without any problems. This is how we embarked on the journey to a more sustainable office.
Where did this green project come from?
The original idea comes from a Slovak branch of CURAPROX, which decided to introduce the zero-waste concept in their office. After they successfully tested the pilot project themselves, they decided to cooperate with the Circular Economy Institute (INCIEN) and offer the project to various companies and organisations in Slovakia. Out of 40 applicants, 16 were selected – and LEXIKA is one of them. During four interactive workshops, experts from INCIEN will train us to become ambassadors of zero-waste offices.
What's the goal of the project?
To actually have a zero-waste office? Is that even possible? In current conditions, probably not. The main idea of the project is to minimise workplace waste and to find ways to move towards a zero-waste office. To succeed we must change our thinking and everyday routine.
One step further
The project's second most important task is to share the knowledge and experience we have gained from practice with others – in the workplace, at home, with our friends and families. They don't always have to be massive changes. Sometimes it's enough to change the little things we do from force of habit, the things it never even crossed our mind to think twice about the effect they have on the environment. Even such a small thing as using one paper towel instead of three can lead to more and more positive changes.
We certainly don't want to pretend we're ecology experts. We've only taken the first step on our journey and we're still learning. But we'll be happy if we manage to raise awareness about green issues. We can be struck by a colleague's unexpected opinion, a report on the radio, or a picture in a magazine that niggles at the back of our mind and gradually encourages us to change something. We'll be glad if for some of you our blog is the impulse. ?
What will our first steps be? Follow our blog or our Facebook page Lexika translations, where we'll be sharing our progress with you.
Do you like our blog?
Share it!