Translating with CAT tools – YES or NO?
Stanislava Dengová

27.03.2019
For Translators
Reading time:

3

min.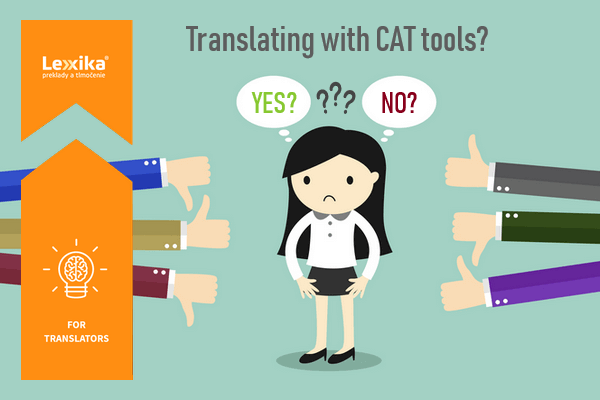 Whether you are an experienced translator or you just started, the idea of working with CAT tools has surely crossed your mind. You're asking yourself: Will it really help me? Wouldn't it cost me an arm and a leg? Isn't it too demanding technically?
If you've ever had this dilemma, the following article is for you. We will share a thing or two on the most common preconceptions about CAT tools and whether they're actually justifiable.
Why to say "No" to CAT tools, or common biases about them
A common reason for rejecting CAT tools is the unwillingness to step outside of one's comfort zone, or fear of the unknown. These fears result in a long list of reasons not to even try something new.
I have no interest in machine translation.
It's really important to point out that CAT tools do not offer the kind of translation that Google Translate does. Many CAT tools do work online, but you and only you are the creator of the translation.
It's going to cost far too much.
It's true that licences for CAT tools are not cheap. But these days, in addition to a computer and dictionaries, CAT tools are one of a translator's main work tools. A baker wouldn't be a baker without an oven... One of CAT's benefits is that almost every one of its tools offers you a free 30-day trial. A month is enough to find out whether this or that CAT tool is right for you and if you can profit from using it. So you're not buying something sight unseen.
What's more, translation agencies usually provide their translators free CAT licences. In other words, if you work mainly with agencies, you won't have to invest anything.
It will slow me down too much at first.
Perhaps. And perhaps not. CAT tools are highly intuitive. If you have basic computer and smartphone skills, you won't have any trouble working with CAT tools. Besides, there are plenty of manuals, video tutorials and Internet forums for this, where you'll almost certainly find an answer to your question. Translation agencies are also ready to help.
The text is segmented and very unclear.
Undoubtedly, text segmentation can be very distracting at first, but it's really just a matter of getting used to it. It is text segmentation that allows CAT tools to apply many of its useful functions. In any case, you will probably be using CAT tools for translating technical, economic or legal texts, where sentence fragmentation is not such a burden (as it could be when translating fiction or other creative texts). Furthermore, you can be absolutely sure that everything will be translated.
Why to say "Yes" to CAT tools
Let's be honest. If you want to stay competitive, you can't hide from technological progress. Moreover, CAT tools make your work easier and more effective. How?
Consistency
CAT tools constantly compare the translated text with data in translation memory, and if it finds at least a 50% match it will offer you the relevant part of the sentence. This feature enables you to guarantee absolute consistency within your translations.
Unified terminology
In addition to building translation memory, CAT tools can create a glossary to look up words. This function is useful for clients with their own specific terminology. And again, you can guarantee consistency – terminologically.
CAT remembers so you don't have to
Have you ever run across a complicated abbreviation, and spent ages searching for its meaning, or had to call your mechanic and ask what that part of the machine is called, or you called your doctor to explain a diagnosis you can't translate? And then you need the same term again for another translation, but you just can't remember how you translated it... CAT tools help you through these situations, too. Even if you don't create a glossary from every translation, CAT tools offer a feature that helps you simply look up a specific translation even in your older projects.
Quality check
CAT tools alert you if they find errors in punctuation, lower/upper case letters, number formats or other typographic aspects. This ensures you a better-quality check and producing first-rate translations.
No more copying numbers
Often your translation has lots of numbers that need to be rewritten manually. Imagine if somebody already did that for you and even changed the format to fit the target language. Wouldn't that be awesome? CAT tools can do this, and you can be almost completely sure it will be done with no errors.
These advantages are just a sample of all the useful features CAT tools offer you. Moreover, most CAT tools work online. That means you can come back to your translation anytime and anywhere you have internet connection.
What are the benefits of CAT tools?
These advantages will make you a more reliable supplier to your customer base and more attractive on the labour market. Basic CAT knowledge allows you to offer something extra. Individual clients as well as translation agencies will certainly appreciate it. Your clientele can grow immediately thanks to effective work without your spending more time at it. You have nothing to lose by trying it out.
Do you like our blog?
Share it!