Online Security: How to back up your data
Simona Pralovska

30.09.2021
For Customers
Reading time:

2

min.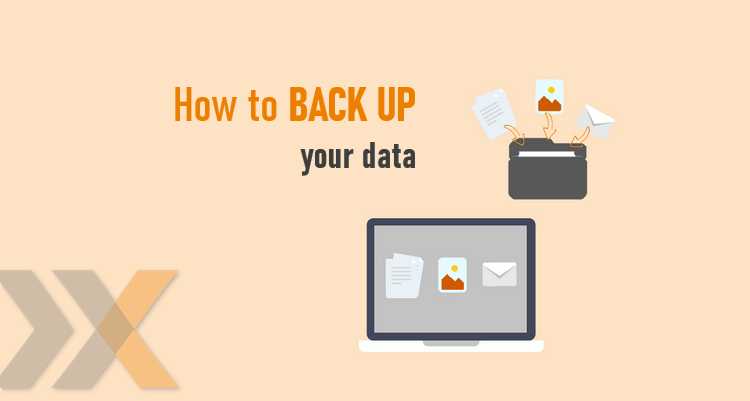 In addition to preventing your data from being stolen, you should also consider how to prevent data loss if your device is misplaced or damaged.
Backing up all of your important data is essential.
What data to back up
We recommend backing up data that cannot be recovered easily. This means different things to different people.
It can include
work files,
creative work,
important emails,
photos and videos,
as well as the calendar for your schedule.
Data backup methods
As the Guardian Editor Jack Schofield's Second Law of Computing states: "Data doesn't really exist unless you have at least two copies of it."
Let's look at the available back up methods.
External drive backup
Backing up to an external drive is more than sufficient for your home. External hard drives with storage capacities measured in terabytes, or highly portable USB drives, can all be utilised depending on what you need backed up. Some external drives even come with software that sets up automatic backups. This means you won't have to worry about forgetting to back up your data regularly.
The disadvantage of external drives is that they are vulnerable to physical damage.
You should also encrypt external drives. We will discuss encryption in the segment part of our Online Security series.
Network-attached storage (NAS server)
Think of a network drive as a regular hard drive that also has a CPU and RAM and is connected to your network. This enables you to generate backups from multiple devices and works great for small business. However, it requires at least rudimentary IT knowledge to get set up.
Cloud backup
Most people today utilise cloud backup services, which means that your data is stored on the servers of tech giants like Google or Apple. Many don't trust the security of their files and photos in someone else's hands. As it turns out, the opposite is true.
What works for your money works for your data – it is more secure in a bank than in your sock drawer.
This option is ideal for people who move frequently or use different devices, whether at work or in private.
Some of the most well-known cloud storage providers are Google Drive, Dropbox, iCloud or OneDrive, but there are many more. You can choose based on storage size, price, and compatibility with your device or the data-type that you're backing up. Regarding overall convenience, it's better to choose a service that doesn't require you to create a new account. For example, if you already use Gmail, then it would be easier to use Google Drive.
Quick tip: Data sharing
Cloud storage has yet another advantage in addition to backups: it makes sharing information with your colleagues, family or friends much easier. Always make sure to password protect your files and share those passwords via a secure communication channels for increased security.
Still remember how to create secure passwords from the first part of our Online security series? 
Do you like our blog?
Share it!