25th Anniversary of a Translation Agency: How Did It All Start?
LEXIKA

23.08.2019
About Lexika
Reading time:

2

min.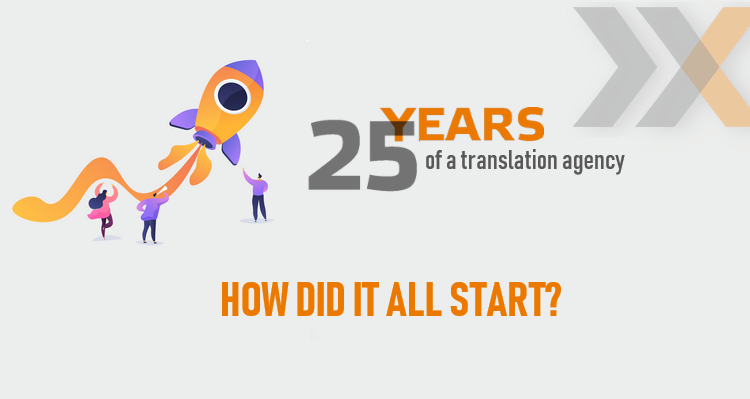 This year Lexika is celebrating the 25th anniversary of its founding. On this occasion we looked back at its history with the best person for the job – the man who witnessed the birth of Lexika, though he was no more than 15 years old at the time.
In a series of articles, Michal Kmeť, Lexika's Managing Director, will tell us how the translation industry was run in the 90s, and let us in on Lexika's backstage 25 years ago and now.
Lexika's Beginnings
I remember quite well when my father applied for his trade licence for translation and interpreting in 1993. Now more than 25 years have gone by since LEXIKA started providing translation and interpreting services.
In the early 90s, my father retired early because of ill health and had to spend most of his time at home. However, he was determined to find employment, so he looked for work he could do from home. Back then we lived in the centre of Bratislava, and we were lucky enough to have a fixed telephone line. While searching for a job he came across the opportunity to provide translation services. What started as an ordinary job gradually became a trade activity and later a small company.
We had a modest start. The first few weeks after we opened a bank account, our account statements showed nothing but debits for drawing up and sending statements and account management fees. Gradually the situation improved – we replaced an old electric typewriter with a simple computer and a 40-pound fax with a more modern (and importantly lighter-weight) fax.
The times before the internet
In times when there was no internet, our main competitive advantage was the location in the very centre of the capital, because most translations had to be delivered and picked up in person. In those years we were available 24/7. And, yes, a few clients did take advantage of our non-stop service, calling late at night or turning up at two in the morning.
For internet and e-mail connection, we had to wait until autumn 1996. Often, I came home from school to find a line of clients waiting at the door. So instead of watching TV, I would take their orders and deliver translations by bike around town. Now that I think of it, I wonder what those clients thought about handing their documents over to a 15-year-old boy. But I guess those were different times.
Over the past 25 years I have worked in the translation and localisation industry, much has changed. A list of all the gradual and rapid changes would provide material for a whole article, and I'm certain there are even more changes ahead of us.
I am convinced that we owe our success to the customers and translators who have been with us since the nineties and to our values: focus on customer needs, integrity, team work and long-terms sustainability.
Do you like our blog?
Share it!